2001 07 29 - Mountainview
[up] -- 1 2 3 4 5 6 7 8

Photos from the Canadian Association of Rocketry launch held at Canadian Forces Detachment Mountainview July 29th, 2001, at which I did my L1 certification.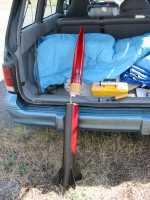 The Certifiably Gothic being prepped for flight. This rocket started out as a PML 1/4-scale Patriot kit, which was the right rocket for a level 1 certification flight (4" body, just under 1500 grams, can fly on G, H, and I motors, and was on sale at ARG), but for a few reasons (not wanting to do all that work with painting and masking, having a friend named Skud, and anyway US patriotism hits its best-before date the moment it crosses the border) the paintjob diverged. PML included a sticker of their "Q-Max" demon and a logo, and they being in black and red inspired the reverse colours behind them, and that in turn gave me the name for the rocket.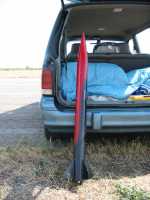 Ready to go. Cesaroni H motor installed, ready for my Level 1 certification flight. Nervous? Naaah.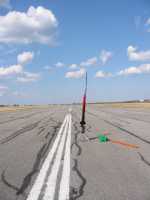 On the launch rail, and almost on the centreline of the runway. A good chute (look near the bottom left of the frame). No picture of the actual launch; these rockets do too fast a transition from being there to being not-there.
A second launch (an L2 certification attempt) looked completely unlike this at this point in the flight, and tumbled down onto a runway under a tangled chute and broke the rocket.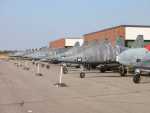 CF-5s baking in the sun. This is the base where old airplanes go to die, and it felt like launching in a cemetary.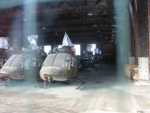 Looking through the window as the late afternoon sun illuminates Kiowas inside 4 Hangar. My brother will have logged time in some of these machines (and in the Tutors).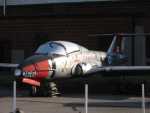 One of many Tutors on the base.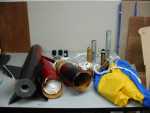 The earthly remains of the Certifiably Gothic back on the workbench after flight 2. One cracked fin, one section of body tube broken, and various runway rash.

Click on any of the above for the fullsize scans.
---
[up] -- 1 2 3 4 5 6 7 8